Netse Mot: One Mind for Xw'ullemy (the Salish Sea)
Friday, September 27, 2019. 5-7pm, start to gather at 4:30pm.
Blaine Fishing Pier and adjoining waters
Come stand with us to protect our waters, our salmon, qwe'lhol'mechen (orcas), Treaty rights, Indigenous lifeways. Meet at the border to show that no line divides us – we are of one mind – when it come to protecting our shared home.
Tribal and First Nation leaders, together with environmental groups and faith organizations, address the question: What should be done to heal the Salish Sea? 
Gather on the Blaine Fishing Pier at the end of Marine Drive if you're on land; gather around the blue purse seiner "The Salish Sea" if you're in a fishing boat, motor boat, canoe, kayak. You can launch small craft from the public boat launch on Milhollin Drive.
Speakers, music, water blessing, unity circle. Family friendly.
Bring red, wear red.
Logistics:
If you would like to sign up for free charter bus transportation Seattle-Blaine: bit.ly/BlaineBus
If you are interested in carpooling, you can self-organize at this link: https://www.groupcarpool.com/t/znkt0e
If you will be in a kayak, canoe, or boat: https://docs.google.com/forms/d/e/1FAIpQLSf2p8cdJpcn804tBZK6BIXd7x5wKhJq7A1hhnVsL81uiLEJnw/viewform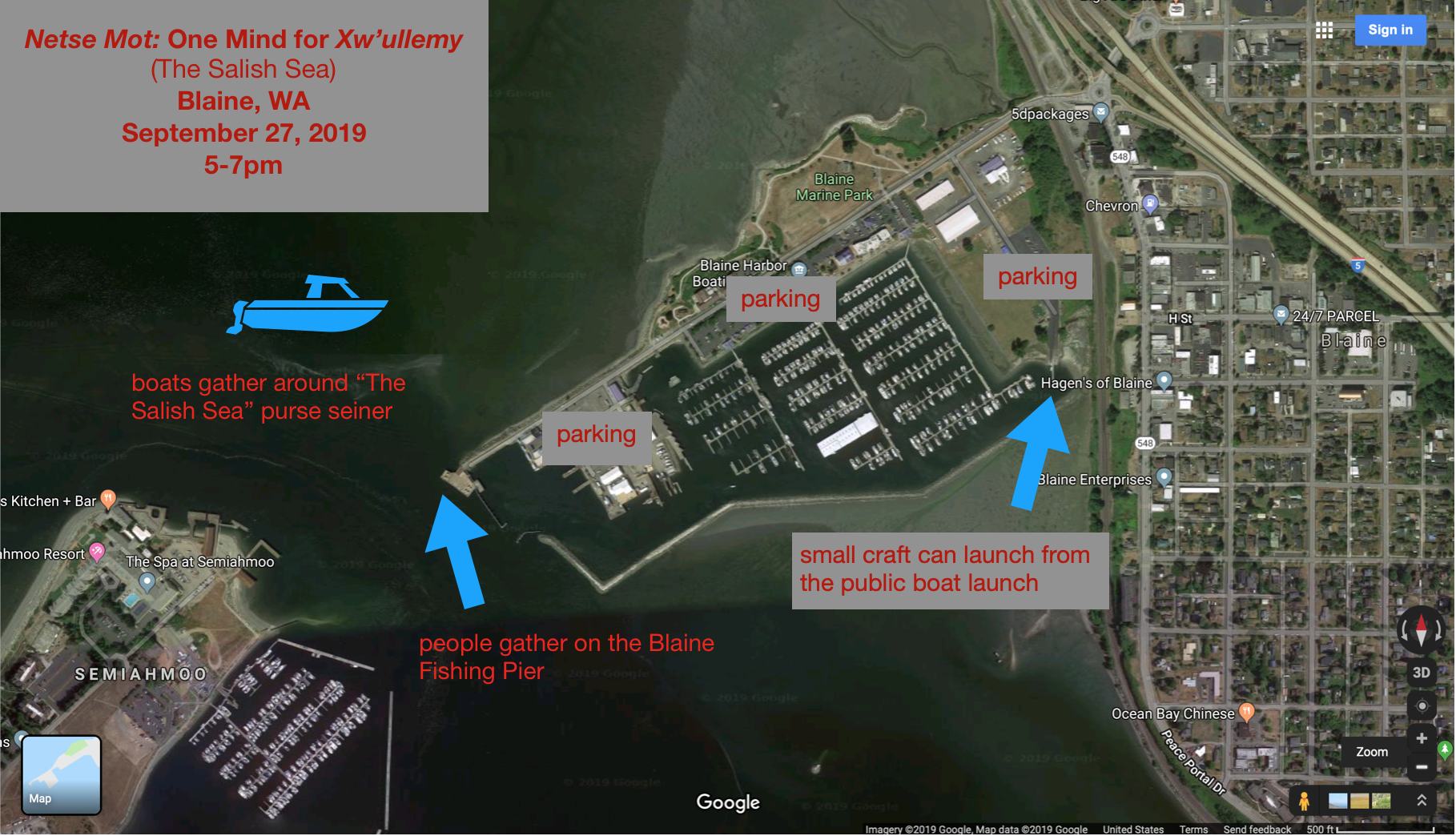 Other events of interest:
July 24-28: Paddle to Lummi will see canoes from Maori, Hawaiian, and Papua New Guinean communities, as well as Indigenous peoples closer to Lummi.
July 27: Press Conference at the Stommish Grounds. Public welcome.
September 21-22: the Sovereignty and Treaty Protection Office will have a booth at Bellingham SeaFeast
All events are free and open to the public.